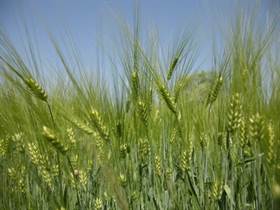 April 30, 2015
* Paris-listed farm group exploring M&A opportunities - chairman
* Company posts 2014 core profit after loss in 2013
* Sees stable 2015 results despite grain prices plunge
By Sybille de La Hamaide
PARIS, April 30 (Reuters) - AgroGeneration could expand its farming activities in Ukraine this year as an improvement in its finances allows it to target companies weakened by the political and economic crisis in the country, its chairman said.
No deal had been signed yet but the company - among the top five grain land operators in one of the world's largest grain-exporting countries - is exploring options, according to Michael Bleyzer.
"We want to grow both organically and through M&A (mergers and acquisitions)," he told Reuters in an interview.
"Something is possible by the end of the year but not at a large scale," he added, pointing to companies operating 10,000 to 30,000 hectares of land. "We want to be sure we have the financing to do so before rushing into anything."
Paris-listed AgroGeneration pulled out of Argentina last year but still operates almost 120,000 hectares in Ukraine, where it mainly grows wheat, sunflower and barley.
The company had indicated last year that the economic crisis in Ukraine linked to the conflict in the east would create M&A opportunities.
However, it first needed to restructure its long-term debt. This was done through the issue last month of OSRANE convertible bonds for 59.6 million euros ($66.3 million).
AgroGeneration on Thursday posted sales of 64.6 million euros in 2014, down from 72.2 million in 2013, mainly due to lower prices for the 360,000 tonnes of grain and oilseed sold, out of 400,000 produced.
It swung to profit - earnings before interest, tax, depreciation and amortisation (EBITDA) stood at 20.7 million euros, compared with a loss of 24.8 million the year before.
Earnings were boosted by a good harvest and economies of scale after the merger in 2013 with farm group Harmelia, a subsidiary of Bleyzer's investment fund SigmaBleyzer, the company said.
Ukrainian-born Bleyzer expects similar results in 2015 despite a further plunge in grain prices; wheat prices fell to their lowest level in nearly five years on U.S. markets on Tuesday.
The cultivation of an extra 6,000 hectares of land in Ukraine and lower input costs linked to the fall in the country's hryvnia currency should help compensate for lower prices, the chairman said.
AgroGeneration also announced that Charles Vilgrain, former deputy chief executive and co-founder of the company, had stepped down and would not be replaced.
($1 = 0.8993 euros) (Editing by Pravin Char)
http://www.reuters.com/article/2015/04/30/agrogeneration-ukraine-idUSL5N0XQ54220150430