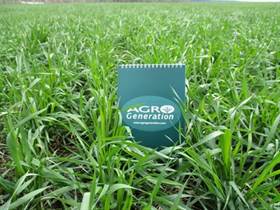 March 21, 2018
Ukraine-based French group AgroGeneration contemplates increasing its land bank and upgrading machinery in 2018, said the company's vice president Sergiy Bulavin. "We consider land bank increase possibilities and plan to renew our equipment. Machinery renewal has a substantial impact on economic performance. By making planned machinery upgrades an agricultural company reduces its maintenance and repair costs, as well as mitigates risks of production plan failures resulting from sudden breakdowns," he commented to Interfax-Ukraine News Agency. Moreover, as reported by the vice president, in 2017 they held an independent group technology audit and introduced a number of improvements.
"We spent USD 6.5 M on new equipment to upgrade old machinery. Owing to such changes and based on the forecast of prices for our 2017-2018 season production, we decided to increase the area under winter crops by 10% of the overall land bank size, that is up to ca. 48 thous. ha. These lands are located near our farms in the Kharkiv, Sumy, Zhytomyr, Ternopil, and Lviv regions, where we grow winter wheat, winter rapeseed, and winter barley," said Sergiy Bulavin.
He added that the structure of fields under spring crops has also been reviewed on the basis of price forecast.
According to Mr. Bulavin, the company's main task for the nearest future is to achieve maximum economic efficiency.
"[IF: achieving maximum economic efficiency] That's the reason why we invested in Lean Six Sigma training of our professionals and in the implementation of this methodology in the company in 2017. Now we have around 50 running projects that will potentially bring added value. The majority of them will be finished in 2018 giving a start to the next projects," he said.
French group AgroGeneration S.A. was founded in 2007. It specializes in growing grain and oilseed crops and currently operates ca. 110 thous. ha in Ukraine.
In October 2013 AgroGeneration completed a merger with a Ukrainian agricultural company Harmelia.
In 2016 AgroGeneration's net loss was EUR 0,888 M, which was nine times less than in 2015, while its revenues grew by 3% – up to EUR 60,26 M.
Source: Interfax-Ukraine
http://www.fixygen.ua/news/20180321/frantcuzskaya.html
This article was originally written in Russian and translated into English by AgroGeneration