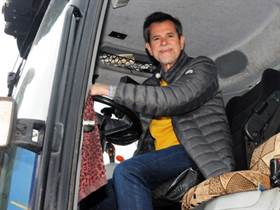 September 01, 2016
Agricultural companies of AgroGeneration will soon finish sowing the winter crops and will start harvesting corn. On the Field Day the company's Chief Executive Officer John Shmorhun visited Lan Agricultural Company in the Valky district of the Kharkiv region. It was him who had sown the last beds with Bohdan variety of winter wheat. This season Lan ALLC was one of the enterprises demonstrating the best yield of grain crops.
Autumn harvesting is as much productive – Lan gathers 8-9 tons of corn per hectare. Corn was sown on one third of the company's fields. Harvesting of this crop is expected to be over by the end of October.
Lan ALLC is a part of the AgroGeneration Group.
It is located in the village of Cheremushna (Valky district, Kharkiv region).
The enterprise operates over 10,000 ha of arable land.
Its core business is grain and oilseed crops growing.
The enterprise employs 140 people.
Its General Director is Serhii BAIRACHNYI.