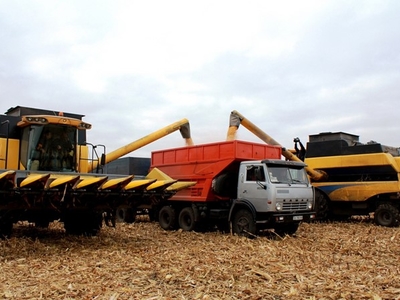 September 06, 2017
Agricultural company AgroGeneration spent USD 6,5M to purchase farming machinery in 2017.
Sergiy Bulavin, Vice President of AgroGeneration, shared about it in his interview with AgroPortal.ua.
"It was the time to renew our farming machinery fleet this year. So, we spent USD 2,9 M to purchase agricultural machinery in spring and another USD 3,6M to purchase farming equipment and vehicles in autumn," he said.
According to Mr. Bulavin, renewal of machinery was triggered not only by the necessity to reduce current maintenance costs, but also by the climate change. Equipment that was selected for our fields 5-10 years ago is not what the company's specialists are fine with today. Moreover, AgroGeneration intends to apply more intensive cultivation technology.
"The company has implemented a big project that selected a set of machinery for every individual farm taking into account its soil composition, acidity, density, and local climate specifics. This optimized set of machinery will give us some flexibility. We realize that the market will change; considering such changes we may possibly readjust the structure of our fields focusing on this or the other crop. Realizing that the climate changes, we want to have a variety of options with our fields," said Mr. Bulavin.
He also emphasized that purchase of machinery is a good sign for the land owners, because "they understand that the renewal of machinery fleet means that the company will keep on doing sustainable business, which makes people more loyal."
At the same time, Mr. Bulavin clarified that the company keeps on engaging contractor services during the season of harvest, since it makes no sense to buy a full set of equipment, which may be easily leased from the market.
"It is more reasonable to have a medium-size machinery set and rent additional combines during harvesting. We also have combines of our own, they are able to meet average workload; but we rent additional equipment from the market in high season," added AgroGeneration's Vice President.
About AgroGeneration: Founded in 2007, the Company is a large grain and oilseed crops producer. In 2013 AgroGeneration completed a merger with Harmelia, which increased its land bank up to 120 ths. ha. The company's storage capacity is 240 thousand tons.
Source: http://agroportal.ua/news/novosti-kompanii/agrogeneration-obnovila-park-selkhoztekhniki-na-65-mln/
Svitlana Plyshko, AgroPortal.ua