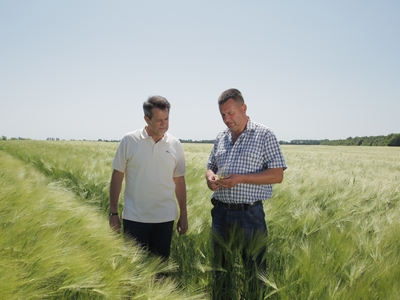 June 17, 2015
Mr. John Shmorhun:
'We plan to expand the territory of the company'

Recently Mr. John Shmorhun, CEO of AgroGeneration, visited the 'Lishchynske' farm, one of the companies in the Group. Therefore, he had the opportunity to ensure that the sowing campaign at the 'Lishchynske' farm moved forward as planned, all the technologies were observed, and that the equipment was in proper working order.

According to Mr. John Shmorhun, the 'Lishchynske' farm is not a large enterprise but it is extremely important for the work of the company as a whole. 'In the future there is an opportunity to expand the territory of the arable lands at 'Lishchynske' farm since there are many fields that are available for farming'.

Besides, Mr. John Shmorhun explained which varieties of barley were used this year to sow on the farm. 'One of the fields was sown with a malten barley, the 'Sebastyan' variety, purchased from the French company 'Souffle'. We sow this assortment annually and we have high yields. We expect to have the same results this season as well!'

Mr. Oleh Mazur, the General Director of 'Lishchynske' farm, said that winter-hardy barley, another variety sown on the farm, has taken hold in this area, and annually produces high crop yields. 'That is the reason why we plan to use the same barley variety in the future and we plan to stay with this'.
Notes:
Being located in the village of Lishchyn, the Zhytomyr oblast, the 'Lishchynske' farm belongs to AgroGeneration Group.
The farm operates 4,712 hа.
The farm specializes in growing of grains, technical and bean crops.
60 people work for the company.
General Director: Mr. Оleh Маzur.