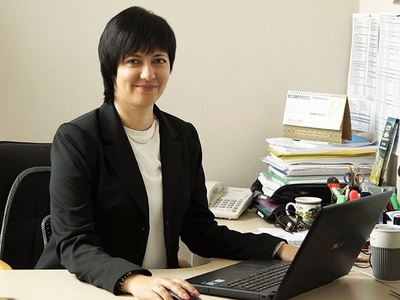 24 octobre 2017
Svitlana Harasko, Head of the HR Management Service, shared with AgroPortal.ua about the human resource management structure of AgroGeneration, one of the largest agricultural companies, about recruitment challenges faced by HR-managers in agriculture, and about the importance of corporate traditions.
How many years are you with the company?
Svitlana Harasko: Four years – if we speak about consolidated AgroGeneration. In October 2013 AgroGeneration merged with Harmelia where I was in charge of the human resources service since 2011.
I started my career path with SigmaBleyzer as a student and moved into HR department in 2005. Since I was a leading HR manager at SigmaBleyzer, in 2011 I was offered to take a post of the head of the human resources management service at one of its projects – Harmelia. It was an early start of the rapidly developing project. From 2011 to 2013 Harmelia has been actively increasing its land bank and acquiring new farms; by October 2013 it already accumulated 70 000 hectares. Over two years we have formed an HR department from scratch, built a human resource management system, and put staff records keeping and HR processes in place.
Since October 2013, being in charge of the human resources service, I continued integration of the best practice in AgroGeneration and Harmelia. At present one may evidence an effectively built system, which is the result of efforts of the top management and of our entire pulled together team.
How many employees does the company have?
Svitlana Harasko: Now we have 1360 full-time employees; their number increases by additional 100-130 seasonal employees who work under fixed-term employment contracts in the fieldworks season.
Do you have seasonal workers coming from other regions of Ukraine?
Svitlana Harasko: We tried to implement a similar employment strategy this year, but it wouldn't settle down in here. Seasonal workers are the people who live at locations where we operate our lands; thus they come to work for the needed period of season.
What challenges do you face most of all when it comes to staff recruitment?
Svitlana Harasko: At the moment, the main challenge is elevated migration flow. There is a significant outflow of staff because of the visa-free arrangements. We have land in five major Ukrainian regions – Lviv, Ternopil, Zhytomyr, Kharkiv, and Sumy. This season we've seen outflow of staff in the western regions, especially in the Lviv region. One of our farms had lack of tractor drivers. People from the Sumy region are leaving for Russia. Although we manage, it's challenging to find specialists capable of operating such state-of-the-art equipment as we have. We retain our personnel by maintaining a robust compensation scheme; we also take care of people through various incentive and social programs.
What type of the management structure does the company have? Who has implemented it?
Svitlana Harasko: Now we have a matrix management structure, which implies both administrative and functional subordination. There is a managing company (corporate center) and a production department that consists of Western and Eastern clusters. Every cluster comprises several territory-based farms. As an example, the chief agronomist of a farm is subordinated to the cluster agronomist and to the farm director. Such system ensures professional competence and higher responsibility at locations. It was implemented by John Shmorhun who built the system along with the top-management team. Thus, at the moment we have an aligned, solid, and effective management structure. But improvement is an ongoing process and we introduce innovations on a continuing basis depending on the needs of the company and of the agriculture in general.
What is the percentage rate of production/administrative personnel at AgroGeneration?
Svitlana Harasko: Our company has a corporate center and a production department, which is further divided into administrative and production personnel. In the corporate center we have 13% staff, 13% is administrative personnel in the production department, and the rest 74% are employees directly involved in the agricultural production, for example, tractor operators, drivers, machine operators, and such general specialists as agronomists, engineers, service technicians, scale operators, warehouse specialists etc.
What is the rate of personnel turnover?
Svitlana Harasko: At present it's around 17%, which is a fairly low rate that shows how highly motivated our staff is.
Do you have common young talent projects with Ukrainian agricultural universities?
Svitlana Harasko: Yes, we do have such projects, however they are not big. AgroGeneration cooperates with agricultural universities in Kyiv and in Kharkiv. We are moving in that direction to expand our collaboration, because we want to deal with skilled workers who are ready to follow the company's needs. In this respect HR service is strongly supported and directed by John (editor's note: John Shmorhun is the Chief Executive Officer of AgroGeneration).
Does the company typically compensate for training of its employees?
Svitlana Harasko: The company does practice that. We apply different compensation systems. Just recently almost all our management – from top management to line managers at farms – underwent the Lean Six Sigma training. It is essentially about lean production, optimization of costs, and improvement of agricultural technologies and manufacturing quality. The company paid significant amounts to cover this training. Now, management is polishing their skills in order to improve processes in the company.
We continuously facilitate and raise competencies of our employees by sending them to workshops, conferences, and other trainings. In our company we also have internal corporate training when experienced colleagues share their expertise and knowledge.
We also fully or partially compensate for the training of employees to raise their professional competence. It motivates them to be more responsible in professional development. This compensation scheme is applied when an employee shows initiative and reasonably proves the benefit of his/her training to the company.
What kind of incentive programs does the company use?
Svitlana Harasko: For financial incentives we have developed a KPI system. In 2016 it was implemented for a narrow circle of employees, but this year it was expanded significantly. Earlier the KPI system was applicable to management of the corporate center, whereas now it is also applied to management of clusters. The system is already delivering some positive outcomes. Employees get a better understanding of the KPIs system and how it impacts compensation of their work. All staff receives year-end bonuses or bonuses based on the completion of projects. AgroGeneration pays competitive salaries including all taxes and benefits. We strictly adhere to the Ukrainian Labor Code and maintain all prescribed social guarantees. We also diligently fulfill our obligations to land owners, many of whom are either our employees or members of their families. Our company strongly supports rural infrastructure practicing its core principles, such as care for the people and the land, honesty, and transparency, in deeds.
In my opinion, such attitude of AgroGeneration's management, which facilitates development and self-fulfillment of its personnel, is crucial because it shows the willingness to hear and to support, it builds the team, and it is highly motivating.
Does the company have any traditions? How do they become part of AgroGeneration and who introduces them?
Svitlana Harasko: As our company develops it forms its own traditions, which is very important for building a team spirit. For two years we have been organizing a "Family Day". In 2016 it was organized in Kyiv for the first time for our employees and their families. The debut was much admired by all participants. Interaction in the relaxed outdoor setting in one big family circle left enjoyable impressions. This year we did the same in Kyiv, Kharkiv, and Lviv. Employees come with their families, bring their children, and take part in different contests. Such format facilitates warm and pleasant communication, which is very inspiring for people.
In 2017 we celebrated AgroGeneration's anniversary (10 years) and organized an off-site corporate event for the company's key employees in the Carpathians.
It was a very positive team building event, where one could effectively practice managerial skills or have rest for one's liking – activities (football, interesting walking or biking tours, plays, contests), intellectual games, and relaxation (SPA, fishing, walking in nature).
Who creates team environment in the company?
Svitlana Harasko: No doubt, it's John (editor's note: John Shmorhun is the Chief Executive Officer of AgroGeneration) who creates general friendly environment. His openness and sincerity tune people in to positive and effective work. Employees trust him; they are open to share their problems or express their own opinion. All our top-managers work in the same manner, which is quite reasonable, because team spirit is built by the entire team, and the team is effective when it consists of like-minded people.
Oksana Pyrozhok
Source: http://agroportal.ua/publishing/intervyu/rukovoditel-sluzhby-upravleniya-personalom-agrogeneration-my-modernizirovali-sistemu-motivatsii-dlya-sokhraneniya-svoikh-kadrov/
This article was originally written in Russian and translated into English by AgroGeneration