20 août 2017
One quarter of lease holders are over 70 years old; Ukraine's lease rates for farm land among the lowest in the world
By John Shmorhun
KYIV - Agricultural land is Ukraine's greatest asset. Agriculture comprises 40% of Ukraine's exports and about 19% of its GDP. As a comparison, those statistics were 27% and 10% only five years ago.
Ukraine is richly endowed with 30% of the earth's 'chernozem', or black earth. This is about 60% of Ukraine's 33 million hectares of cultivated land.
In 1990, most farm land was owned by collective farms, a legacy of the Soviet Union. In 1999, ownership was transferred to farm employees - with the restrictions that they could only be personally farmed or leased. Sales of agricultural lands were prohibited.
A moratorium against sales was enacted in January 2001 by the "Law on agreements about the disposal of 'PAIs' land plots'', and later, in October 2001, by Ukrainian Land Code. These were to be temporary measures, for three years, until enactment of two basic laws: "Law on Agricultural Land Markets" and the "Law on State Land Cadaster." Ever since, a moratorium on land sales in Ukraine has been in place. It was recently extended until January 2018.
Aging Former Collective Farm Workers
Small plots of land inherited by collective farm employees are called "PAI." They range from 1 to 5 hectares per "PAI holder." Farm managers reconsolidated most of the "PAI" agreements into long term lease agreements allowing for the integrity of fields. Since 2004, those farms were further consolidated into corporate holding structures which acquired farm fixed assets (elevators, storage, equipment, etc.). This created the larger agriculture enterprises that we see today.
The demographics of PAI holders are interesting. Their total number is estimated at around 6.9 million individuals - 16% of the total Ukrainian population! The vast majority of these land owners live in villages. According to a USAID survey under the AgroInvest project, approximately 24% are over 70 years old. The average PAI holder is a 57 year-old, from a rural area, with higher education.

Sources: State Land Agency Of Ukraine, State statistic committee of Ukraine
How are Leases Operated?
The terms of land lease agreements are from 7-50 years by law and yearly payments are based on a percentage of their cadaster value (approx. $1,200/ha today) and depend on the region and competitive landscape. Lessors have the first right of refusal when lease agreements expire.
This leasehold model greatly reduces the cost of land consolidation and allows the flexibility to pay in cash or in commodities, depending on desires of the lease holder. In 2016, the minimum lease payment equaled $36/hectare - one of the cheapest rates in the world.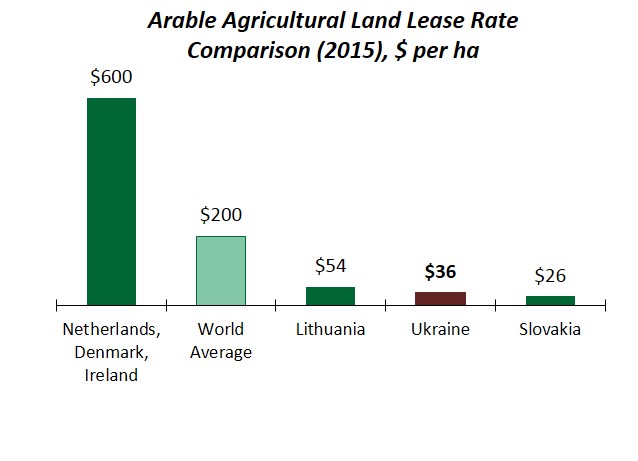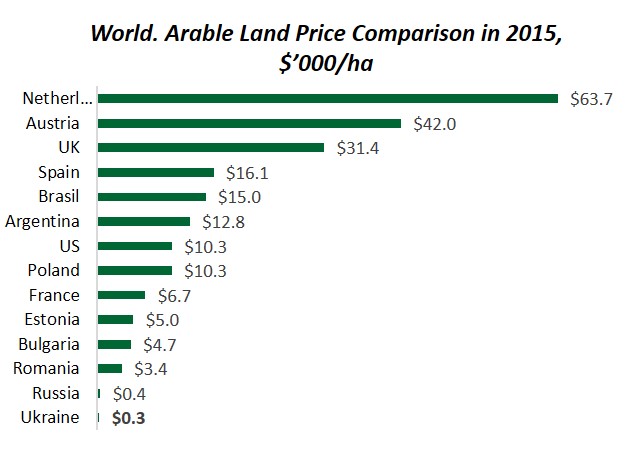 Sources: Eurostat, other open sources
Who Leases Farmland in Ukraine?
It breaks down as follows:
About 39,000 of small farm companies and individual farmers operate 4.4 million hectares or 14% of the total arable land.
The top 70 companies operate 6 million hectares or 20% of the arable land.
The remaining 68% of agricultural land is split between small land holders and farmers or government-owned.
Farm Land Real Estate Market?
There is little doubt that the moratorium will be lifted. There was general misinterpretation of a recent meeting between President Poroshenko and Christine Lagarde, managing director of the IMF. After Ukraine's President announced that the IMF has dropped its requirement for ending the land sale moratorium. In fact, the IMF simply allowed Ukraine to delay the decision by six months.
It is clear that "kicking the can down the road" will only hurt Ukraine's prospects to bring liquidity to the market and allow PAI holders the flexibility to dispose of their property, either through sales or rent. However, the lifting of the moratorium is not a panacea for the woes of the Ukrainian economy as many expect.
Politics of a Land Market
Ukraine's political situation is strained. President Poroshenko's Petro Poroshenko's Coalition Party and 'Solidarnist' parties face stiff resistance from former Prime Minister Yuliya Timoshenko's Batkivshchyna Party as well as from the Opposition party. Sale of land is not popular in Ukraine. An AgriSurvey survey conducted in May 2015 found that:
-- about 70% of Ukrainian farmers were against free sale of agricultural land
-- 56% of respondents were entirely against the land market
-- 14% thought that it could potentially be created but only in the long term.
This populism may prevail in the next Presidential election, in March 2019.
Still, to move forward, there is a need for political will and legislation allowing individuals and companies to buy farmland. The size of land purchases must be clearly defined. Pre-emptive rights applying to leased land must provide leaseholders the safety of holding on to their lease agreements until expiry. This will avoid the breakup of whole fields into smaller land plots.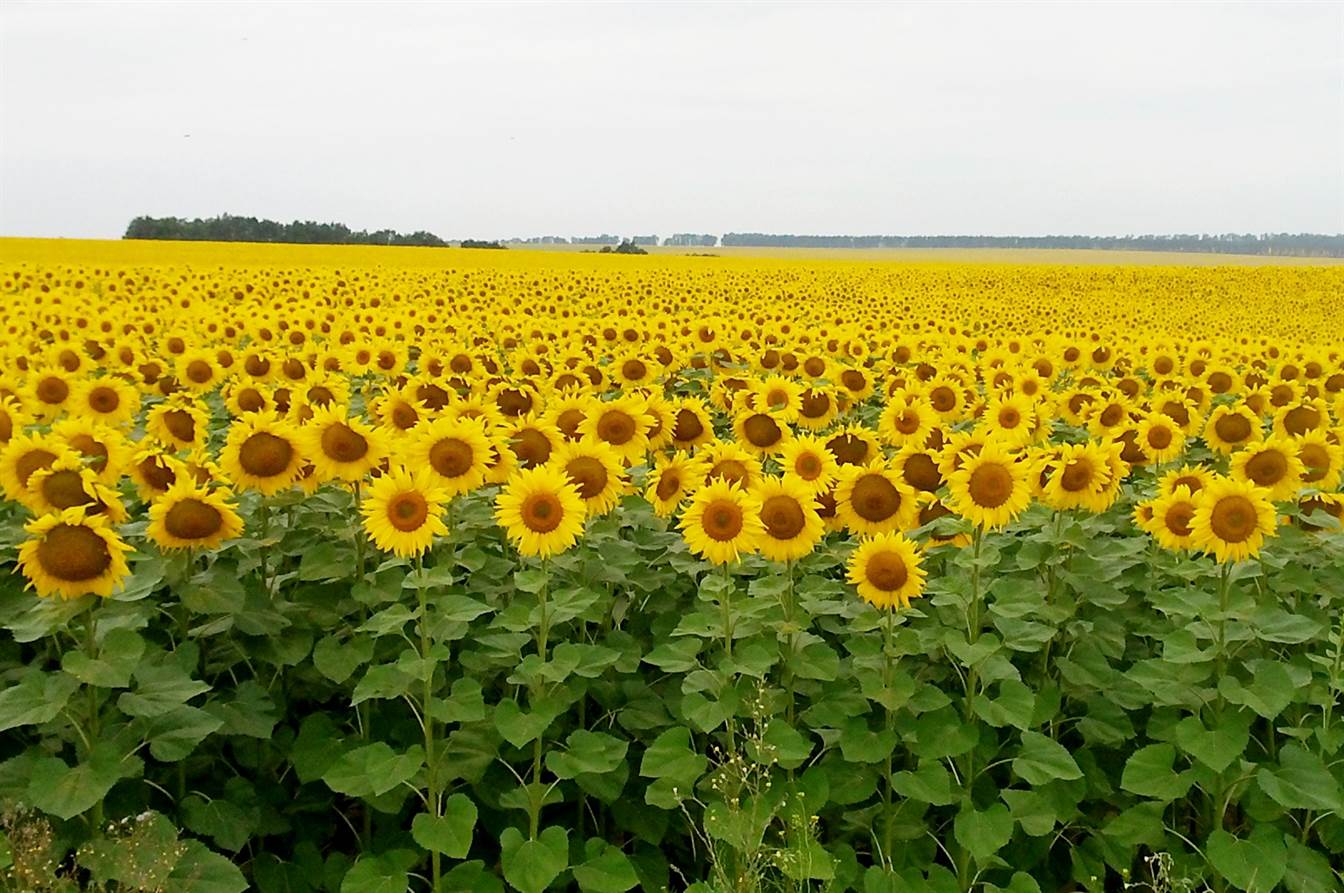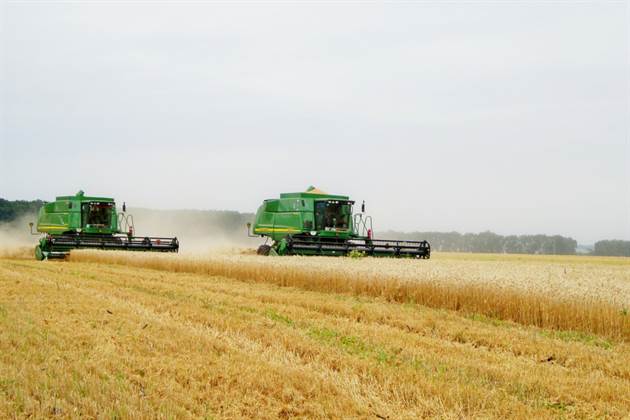 What is the Prognosis?
The moratorium will be lifted in the next year if Ukraine is to follow IMF guidelines. Political winds may push this off an extra year, although that is unlikely.
In the end, I expect that many land owners will sell.
Just look at the demographics. Most owners are well into their retirement years and will see land sales as an option to secure a decent pension. Lease costs are rising as the market begins to heat up in anticipation of the lifting of the moratorium on sales. Lease prices will compete with sales options. Considering the amount of land available vs. liquidity in the market, it's unlikely that land sales will pick up for several years after the lifting of the moratorium.
What's the Opportunity?
Although there will be restrictions on land sales, the opportunity for early investors is clear. Investing in strong Ukrainian agricultural companies or farms with well managed lease agreements will be key. The hedge will be to purchase the lands as they expire.
Banks clearly will be focused on the coming land market as will the international financial institutions. EBRD wants to be the interlocutor with banks to support collateralization of land sales.
Finally, for those still not convinced about investment in Ukrainian farmland, they might want to take a look at this global farmland index: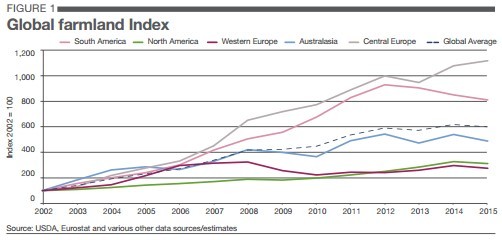 Source: http://www.savills.co.uk
Ukraine continues to be the land of opportunity for farming.
Is the land market to be or not to be? It will be.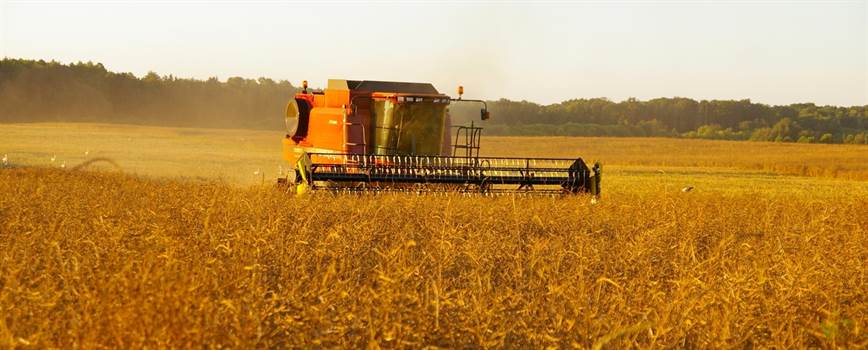 John Shmorhun, a former DuPont executive has worked in Ukraine and Russia for more than 25 years managing DuPont's agricultural businesses in the region. A graduate of the US Naval Academy, Shmorhun is CEO of AgroGeneration S.A. (www.agrogeneration.com), a portfolio company of SigmaBleyzer. He can be reached at: jshmorhun@agrogeneration.com
Source: http://www.theubj.com/news/view/will-ukraine-have-a-market-for-farm-land