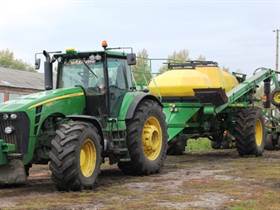 30 juillet 2016
During our travel across villages of the Kharkiv region, when asked to describe what a leaseholder should be like, the majority of villagers who own land said that, first of all, he should be honest and pay for the lease on time. Little by little, the portrait of the "right" leaseholder gained new characteristics – reliable, successful, attentive, and caring. By the way, caring meant not only in relation to people, but also in relation to land, which is no less important.
Unfortunately, the villagers faced cases when the land plots were leased by people, who knew nothing about farming. They promised a lot, but when they got down to business… In two or three years the land was exhausted so much that it was not able to produce any crops at all. That is why, while we were in the Valky district, it was so great to hear the villagers honestly saying "Praise God that he kept such unfortunate leaseholders away from us".
They said that they farm their land out to Lan agricultural company, which is a member of the AgroGeneration Group, and have no regrets about it. Their reasons were simple and substantial – timely rent payments, care for villagers' problems and provision of help if needed, active involvement in the life of community and assistance with such crucial social issues as repairs of schools, kindergartens, and roads (or their cleaning in winter) etc.
"Just look at the condition of our fields or at the equipment that works on them. This is a real technology revolution!" proudly said our conversation partners. "As they say, this is a visible demonstration of advantages of working with a large and successful company."
No doubt that the landowners dealing with other enterprises of the Group also gave high appraisal of the many-year cooperation with AgroGeneration. The company treats with great respect the fact that thousands of farmers have trusted it and leased their land to it. From the very start one of the company's main priorities was careful treatment of people and the land, which is the most valuable resource that must be passed to the next generations unspoiled. Such things as the introduction of innovative agricultural technologies, modernization of the vehicles fleet, or up-to-date business management approach, help achieve high performance.
AgroGeneration put a focus on the state-of-the-art foreign equipment from the very beginning. It was clear that there will be no substantial results on the grain fields without highly productive combines and tractors. Andrii PRYSHCHYP, the Chief Engineer of AgroGeneration's Eastern cluster, shared about the company's decision to modernize and employ the best highly productive agricultural vehicles.
"It's no secret that the fields get simply messed up when outdated machines work on them. No doubt, it results in significant loss of harvest and other resources," said Andrii Hryhorovych. "Obviously, this is not what we want, that's why we employ only state-of-the-art agricultural equipment on the fields where AgroGeneration operates. Its advantages are clear – all fieldworks are done timely and professionally. Moreover, this helps minimize potential harvest loss and save on fuel and lubrication materials that are worth their weight in gold, as they say."
According to Andrii Pryshchyp, the agricultural group has no problems with the operation of its tractors and combines in the field, because they are always completely ready for work and don't break when doing the fieldworks.
At the end of the year all enterprises of the AgroGeneration Group made a detailed analysis of the condition and availability of the necessary equipment and agricultural tools. When necessary, the machines and tractors fleet is modernized with new units on a scheduled basis. The priority is to renew the tractor fleet, so they purchase new seeders, new disc harrows, subsoil tillers etc.
The use of cutting edge and advanced technologies allows all enterprises of AgroGeneration to collect a stable harvest and be sure of tomorrow. This is one of the key factors why thousands of villagers decided to lease their land out to this company. The people have entrusted not only their land to it, but also their hopes for better life and successful development of the Ukrainian agriculture.
Ihor TESLO
Source: "Selianska Hazeta" No.31(1242) July 2016