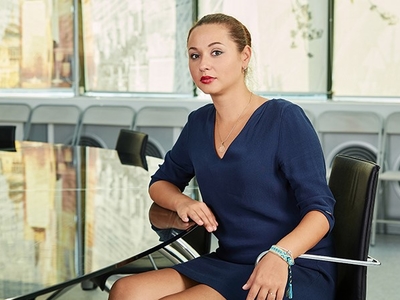 01 décembre 2017
Effective communication not only builds a positive image of a company, but also incrases its market capitalization, believes Iryna Nakonechna, PR director of AgroGeneration.
Not too long ago in the post-soviet space it was generally thought that agricultural companies didn't actually need to create or promote their own brands. Crop yield was always a top priority, whereas visibility, distinction, and other branding aspects were secondary tasks.
However, as part of today's competition for land, landowners, and investors, such issues as the company's image or reputation-building take on a completely new meaning. Yet, the agricultural market is not the same as the retail market which sells household appliences or clothing. Direct advertising, like billboards or video commercials, don't work because of market specifics.
So, what are the pitfalls of agribusiness and what communication tools are used here? AgroPortal.ua interviewed Iryna Nakonechna, PR director of AgroGeneration, who, by the way, has considerably increased her presence in the media space over the last several years.
Q: Today there are more than a hundred definitions of PR and it is no wonder that PR tasks are interpreted in many ways as well. In your opinion, what are the functions of this service?
Iryna Nakonechna: The main task of PR is to build a communications network in order to facilitate productive dialogues between the company (organization) and its target audience, which includes mass media, customers, partrners, investors, and employees.
Communication targets, methodology, and means may be many and various, but all of them have to be in compliance with the same aim – shaping and upholding of a positive reputation. If this aim is achieved successfully, it will help resolve numerous tasks – beginning with the attraction of new customers or investors and ending with the growth of market capitalization and the company's value.
Q: You mentioned communication with employees of the company…
Iryna Nakonechna: That's right, it's a task of internal PR. There is external PR and internal (corporate) PR, which functions to assist HR department in the establishment of favorable conditions for unlocking the potential of every employee, in staff motivation, and in the effective interaction of all departments of the company.
In high season our company employs around fifteen hundred employees. Since our Ukrainan corporate centers are located in three cities (Kyiv, Lviv, and Kharkiv), many employees are not even familiar with each other. Building communciation among them is the task not only of HR department, but also of internal PR. Our experience shows that team building events, trainings, or business games give very good results, especially if they are held offsite.
In my view, yachting is one of the most productive trainings because the newly formed teams have to act in extreme conditions. They make people open and force them to promptly establish communication in the team for the sake of common cause. I took part in a similar training about eight years ago. After such events people get to know each other and understand each other better, they unite and build up the team spirit, which is so crucial for the company's successful operation.
Q: Let's talk about external PR. They say that a journey of a thousand miles must begin with a single step. What about a company?
Iryna Nakonechna: A company begins with a name. Name is the first thing one gets to know about a company. It has to sound well and to communicate information about the company's business. Oftentimes, in an attempt to come up with something sophisticated people intellectuallize with company names. However, I know no single expert who would advocate creativity for the sake of creativity only. In my opinion, a name must be understandable.
AgroGeneration clearly communicates that it's about an agricultural company. Now let's think about a name like SunDay – it sounds good, one may create a bright and colorful logo for it, but what does it tell about the company's business? Such name would likely belong to an event management company…
If the naming is right, people will read and understand what the company is doing within the first 3-5 seconds. If that does not happen, the owner will find it necessary to increase the budget for its brand promotion.
Q: How about branding?
Iryna Nakonechna: Branding too. One of the functions of PR is to promote the company on the market stimulating sales of its production. In this case, a brand builds trust and helps create economic added value.
Why are people willing to pay more money for brand? Because they realize that it's like a quality guarantee – if your equipment is Bosch, it's gonna serve for a long time.
When you buy a branded product or work with a brand name (in any industry), you get a guarantee or confidence in the future assuring that the company won't go bust tomorrow or that it has good quality and high-standard products. The more recognizable a brand is, the higher the standards it has. It gives an important signal to all partners and investors.
It takes a long time and hard work to become a recognizable brand. More and more companies in Ukraine, including agricultural companies, get to realize the importance of and necessity in a brand.
Q: Does PR have its specifics in agriculture?
Iryna Nakonechna: Of course it does! One may outline two main areas of focus – investment attraction and land lease.
Over the past several years in Ukraine the business of agriculture has been demonstrating growth and development, which means that agricultural sector is worth investing in. So how can one attract investments?
AgroGeneration is a transparent public company with a free float listed on the French stock exchange; we timely publish our financial reports and provide the market with necessary information through our website and other sources. The see-through (glass) rooms at our office are no tribute to fashion, they demonstrate our company's openness and transparency as well. All of those aspects work towards the reputation of AgroGeneration and support its business image, which is so crucial for investors.
For landowners reputation of the company is also very important; it has an impact on their choices. However, they are also interested in another kind of information, such as whether AgroGeneration operates within a legal framework honestly and officially, whether it pays taxes and fulfills its contractual obligations, whether it has stable performance indicators, and whether it is a socially responsible company. The task of PR is to interact with them and to communicate this information in an as simple and comprehensible manner as possible.
Q: How do you do it?
Iryna Nakonechna: When dealing with land owners we focus on two areas – mass communication tools and individual communication tools. Mass media are the first and foremost mass communication tool. We realize that our audience has 50+ age demographics and represents passive Internet users, not to say that internet access is often not available in the countryside. That is why we communicate information primarily via newspapers.
The company is engaged in multiple social activities in the districts where its farms operate. We provide a lot of help to communities with repairs of kindergartens and schools, primary healthcare units, and cultural centers; we also arrange repairs of roads, water or electricity supply lines etc. Is all of it a PR tool? No, it's not. However, if we won't tell about what we're doing, how will people get to know about our active social endeavors?
By the way, meetings with the landowners, which are organized by directors of clusters, general directors of farms, and land management experts, are another powerful tool in our work. Such meetings are an element of the door-to-door approach, when people not only get first-hand information, but also can ask questions they have and get competent answers. Meanwhile, for us it is important to get feedback in order to sense potential problems at their early start and to prevent them. This is also an indirect PR tool, because such meetings help build communication with the landowners.
Likewise, in our work we also use various public events, such as national, regional, or local holidays or exhibitions.
We also use the mailing of birthday greeting cards or holiday greeting cards signed by the company's CEO or farm director to build communication with our landowners. This practice demonstrated that peaople value attention and individual approach. We receive very positive and sometimes even touching feedback from them.
As you may see, forms of communication may be different. What matters is that the company has regular publicity, thus people get to know that it operates efficiently and demonstartes good results.
Take this typical example when someone comes to a shop to buy toothpaste. What toothpaste brand will he/she buy? The one that he/she hears of a lot.
What if a landowner has three agricultural companies to choose from? Which one will he/she choose? The one that he/she hears good things about.
Our task is to make this information available, provided that such information is truthful and depicts the company's reality.
Q: Is this the difference between PR and advertising?
Iryna Nakonechna: Yes, it is. PR will never manipulate public opinion! This is crucial to know and to remember.
Besides, unlike advertising, one may not engage PR from sporadically. It must be systematic; moreover, it must be planned. The task of PR is not to respond to, but to form the agenda or policy, as well as to set and to achieve targets. This is a daily and sometimes monotonous routine, like in the saying "little strokes fell great oaks". One may not expect it to yield instant results. That's crucial to understand.
Let me give an example. The conference hall we have at our office hosts various agricultural events – business breakfasts, conferences, round tables – nearly every week. It's already called an agriculture information agency… However, three years ago it used to gather only up to 10 journalists. It took a lot of time and effort to evoke the interest of mass media in the company and to have them write about us on a regular basis. By the way, the present-day mass media monitoring proves that.
Q: What is inadmissible in PR?
Iryna Nakonechna: Communication may not be maintained occasionally or suspended abruptly. Such activities raise flags drawing attention to you and making others think that there is something wrong with the company.
Being formal is inadmissible. If we speak about communication with journalists, they must be provided with the information in such a way that makes things clear and needs no clarifications. No one wants a press release about an annual report!
Being plain is inadmissible. A speaker juggling with figures and terminology evokes no interest! Besides, the more complicated the text, the more it will be distorted in publications. This is proven in use, unfortunately. That is why it is so important for top managers to interact with PR and work with them as a team.
Being afraid of negative feedback is inadmissible. If it's a public company, it has to realize that it won't be praised all the time. And if this is the case, it doesn't mean that one has to wrap the information campaign up and withdraw into the shadows. Instead, one has to look for a new reason for communication in order to make up for the preceding negative feedback.
Above all – be honest! Journalists are quite smart and inquisitive. They will sniff every little thing you may hide or invent and then bring it to the surface.
Q: Do all companies need PR?
Iryna Nakonechna: All of them, regardless of the size of the company or its core business (smiling). Even grannies selling sunflower seeds on the market need PR, but of the different scale.
Source: http://agroportal.ua/publishing/intervyu/irina-nakonechnaya-i-v-agrobiznese-kompaniyabrend-tsenitsya-dorozhe/
This article was originally written in Russian and translated into English by AgroGeneration