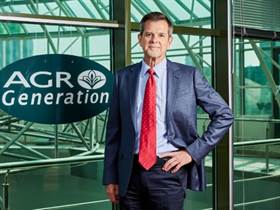 08 novembre 2017
AgroGeneration has been nominated for an Innovations award as part of the Global Grain Awards 2017. The winner will be announced at the ceremony on the 14th of November 2017 in Geneva.
The company was informed about the Global Grain Awards, organized within the scope of the annual Global Grain Geneva International. This is a conference and meeting point for global leaders of the grains and oilseeds supply chain to discuss achievements, information and innovations.
"Being a significant agricultural producer in Ukraine, we believe that this is an important and prestigious award nomination and an opportunity to present Ukraine to agricultural stakeholders of other countries. We will show how the agricultural sector develops and how new technologies and innovations are implemented. This is the way we build our country's image and raise its investment appeal, which is absolutely crucial today," commented John Shmorhun, the CEO of AgroGeneration.
The reason for the 2017 Innovations Award participation was a broad implementation of Lean Six Sigma methodology in the company. AgroGeneration is the first agricultural company to introduce Lean Six Sigma (LSS) to the Ukrainian market.
The company emphasized that Lean Six Sigma will be fully introduced in AgroGeneration by the end of 2017, which will be its first practical implementation in the industrial agriculture of the post-soviet countries. The application of this methodology will open new possibilities for AgroGeneration.
The introduction of Lean Six Sigma will ensure continuous efficiency improvement throughout the production process, thus creating benefits for all stakeholders of the company, including shareholders, employees, partners, counterparties, etc. With the proactivity of the company's leaders, AgroGeneration hopes to achieve the best results and bring the best international practices to the local market in Ukraine.
Source: http://agroportal.ua/news/novosti-kompanii/agrogeneration-popala-v-chislo-finalistov-global-grain-awards-2017/
This article was originally written in Russian and translated into English by AgroGeneration