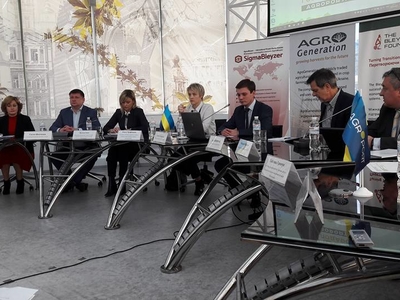 March 21, 2017
AgroGeneration along with representatives of the Food and Agriculture Organization, state authorities, and experts in agriculture discussed the issue of climate change in Ukraine.
Above all, certain climate changes in the country have an increasing effect on agriculture. Within the last 15 years droughts have become more frequent and severe in Ukraine, largely as a result of climate change. In average, droughts occur once in three years leading to a drastic reduction of crop yields. Such adverse effects are particularly evident in the highly productive regions of the country, in particular the south steppe zone that produces around 50% of Ukrainian grains today.
The large-scale implementation of the climate-smart businesses and agriculture, social responsibility, and the introduction of the up-to-date resource-saving technologies, may potentially produce significant positive outcome for Ukraine and for the entire world.
The discussion centered around such issues as measures and actions that may possibly help agriculture adjust to the changes and adapt existing farms to the present-day conditions.
"In the opinion of FAO, climate change is the biggest threat to global food security and sustainable development, which aim at poverty reduction. Adaptation of agriculture to climate change, mitigation of its effects, and decrease of greenhouse gas emissions are the organization's priorities both on the global and on the national scale," stated FAO's international consultant Mykhailo Malkov.
The global community is seriously concerned about worldwide adaptation to climate change. Such global processes have a direct impact on all areas of life and Ukraine is no exception. Agriculture and farming are particularly sensitive to climate change.
"The team of the Ministry of Agrarian Policy and Food believes that in its operations it has to focus on FAO's 17 Sustainable Development Goals and adequately respond to the new challenges," emphasized Olha Trofimtseva, Deputy Minister on European Integration.
AgroGeneration takes an active part in common projects with FAO on the implementation of resource-saving technologies.
"Erosion control is one of our priorities today. FAO and AgroGeneration are working on a common project and consider possibilities not only in terms of this issue, but also in terms of the forest shelterbelts to protect fields from winds and erosion," emphasized John Shmorhun, Chief Executive Officer of AgroGeneration.
The government, private sector, and civil society should combine their efforts in order to achieve this and overall sustainable development goals.