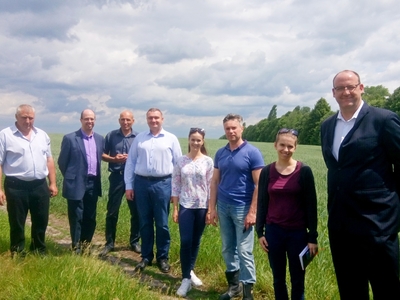 June 16, 2017
An American delegation from the Overseas Private Investment Corporation (OPIC), a U.S. Government agency that helps American businesses invest in emerging markets, recently met with AgroGeneration for a tour of its farm, key operating facilities, and grain fields to review its operations and contribution to the development of the Ukrainian agricultural market.
Joining the delegation was Vice President of AgroGeneration Sergiy Bulavin, the representative of SigmaBleyzer Neal Sigda, the Director of AgroGeneration's Western cluster Viktor Bykov, the HR Director of AgroGeneration Svitlana Garasko, the Western cluster's Deputy Chief Land Management Specialist on Social and Public Relations Yaroslava Bykova, and the General Director of AHRARNYI FOND TERESHCHENKA LLC Valerii Melnyk.
During the visit, the delegation also visited the farm's laboratory, the farming machinery park, as well as the fuel station which supports the farms tractors and combines.